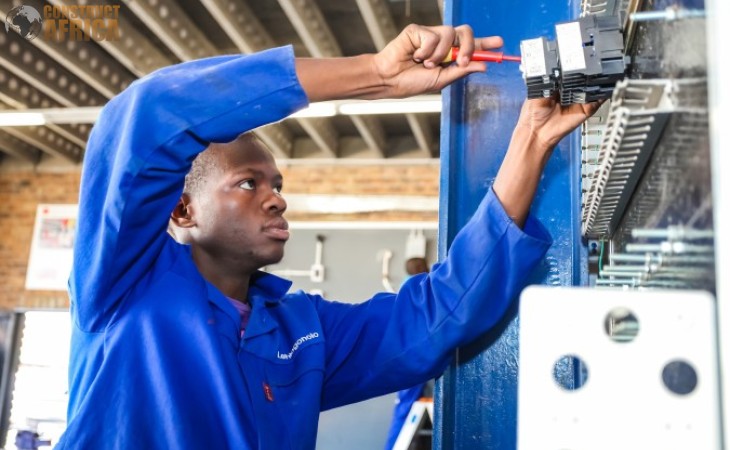 Skills Shortage Hampering Africa's Construction Industry
The Future Of Construction In Sub-Saharan Africa webinar highlighted two main challenges in the region's projects sector.
The need for the Sub-Saharan African projects industry to build a skilled local workforce and the importance of professionalism in procurement processes emerged as the two main talking points during ConstructAfrica's first webinar in its Building a Better Africa series.
Held under the theme The Future of Construction in Sub-Saharan Africa, the webinar sought to identify the current challenges affecting the industry and present solutions for overcoming them.
The panel of experts comprised:
Igbuan Okaisabor, CEO, Construction Kaiser (Nigeria)
Jose Miranda, Grow Africa Leader, ZUTARI
Lucy Chege, Head of Project and Infrastructure Finance, Eastern and Southern Africa Trade and Development Bank (TDB)
Claire Barclay, Partner, Pinsent Masons (South Africa)
Petra Devereux, Sub-Saharan Africa Regional Manage, Chartered Institute Of Building (CIOB)
Dr Nelson Ogunsakin, CEO, FIDIC (International Federation of Consulting Engineers)
Infrastructure deficit
Sub-Saharan Africa has an enormous infrastructure deficit. Some 61% of people lack access to safely managed drinking water; 73% lack access to safely managed sanitation; 50% live without access to electricity; and 48% reside in slums or informal settlements. Meanwhile, just 47% of the region's roads are paved.
The Africa Union estimates that the poor state of infrastructure translates into a 2% reduction in GDP each year for most African nations and as much as a 40% decrease in industrial productivity.
To bridge the infrastructure gap, huge investment is needed in ports, airports, railways, energy, health, education, housing, renewables and drainage and sanitation. This is the opportunity for the construction sector in Sub-Saharan Africa, and, indeed, many projects are now coming to the market.
But the panellists said that a skills shortage was having a major impact throughout the entire projects value chain in Sub-Saharan Africa, from planning to execution and beyond, and the problem will only get worse in left unaddressed.
In particular, the wave of energy projects and development corridors being undertaken across the region is creating a scarcity of engineers and it is becoming harder for firms to attract and retain talent.
Okaisabor said it was critical to halt the migration of talent out of Africa by investing in young people, offering them better education, healthcare and job opportunities so that they want to remain in the region.
He said governments need to be training youngsters in a more structured way so that they can help to deliver the infrastructure projects that the region desperately needs.
"We have seen this [talent migration] happen in all sectors, the medical sector, and now it is really affecting the construction sector and if we don't do something about it, we aren't going to have the talent we need to develop our infrastructure," he said.
Institutional capacity
While lack of funding is often cited as the biggest challenge holding back the delivery of infrastructure projects in Sub-Saharan Africa, Chege stated that the dearth of bankable projects was at the root of the issue, rather than the availability of liquidity.
"There are many projects out there, but in many cases, from a funding point of view, they are not yet bankable – again, this is a capacity issue - they need to get people to put them into a bankable state so they can be assessed by funders," she said. "You need people to package them and have continuous dialogue with the banks and various investors so that they are in a format that can be utilised by the funders for obtaining finance."
Dr Ogunsakin agreed that capacity is lacking on all levels, including at the leadership level where attention is often focused on short term horizons and photo opportunities.
"Without clear leadership across the continent, without political will, without strong institutional capacity at the national level, the regional level, and the state and operational level, we will continue to struggle," he said.
CIOB's Devereux said engaging with professional membership bodies was important to elevate the professionalism in the construction industry and ensure the region keeps pace with developments in the built environment, technology and health and safety procedures. Greater professionalism will help to attract investment into the region and slow the brain drain.
When it comes to measuring success in project delivery, Devereux said the criteria in Sub-Saharan Africa need to be much broader than simply on time, on budget and with minimal lost time injuries, and should include long-term legacy, the upskilling of local communities, job creation and sustainability.
Professional procurement
The panellists agreed that the success of a project begins with the procurement process.
"Procurement is fundamental; we often experience extremely long procurement processes on the continent," Miranda stated, estimating that on average it takes 18 months for a project to reach execution.
Protracted procurement processes can hamper the execution of projects, as by the time work gets under way, conditions may have changed. "This makes it more costly and difficult to execute," he explained.
Barclay singled out the Gautrain Rapid Rail Link PPP Project between Johannesburg and Pretoria and Tambo airport in South Africa as a regional success story that offers lessons for projects in reaching financial close.
She said the project had a well-prepared procurement process and because of that it attracted credible bidders and interest from lenders:
"[It] is really important to get a reputable selection of bidders bidding for your project as you know then that you have something that…can take you through the implementation. Getting in credible bidders means getting in credible funders as well."
She said the project implementers demonstrated professionalism in sticking to timelines in the procurement process, which contributed to the project attracting high-quality bidders.
"The government stuck to its timeline, it had a procurement schedule and it set out clearly when certain activities would take place and, by and large, it stuck to that schedule. I think that is really important, just to keep momentum and interest in a process."
In addition to the project having strong political support, Barclay stated the government was also sensible about how risks were allocated contractually.
"The usual principle is having the party best placed to manage the risk be allocated the risk. But we often see project documents coming from authorities that put unnecessary and impractical burdens on the private sector or vice versa. It is important to have well-thought through documentation," she said.
Chege agreed that the competence of the implementing bodies is reflected in the quality of the bidders that a project attracts. She highlighted South Africa's Renewable Energy Independent Power Producer Procurement Programme as another successful example for the region due to its strong regulatory framework, which provides clarity and confidence for bidders and investors.
Six recommendations
Concluding the webinar, the panellists made several recommendations to improve the landscape of the Sub-Saharan African construction industry:
Develop apprenticeships and mentorships for young people to give them hands on experience in the industry.
Improve procurement processes and regulatory frameworks to open up more opportunities and investment.
Be realistic about what risks can be transferred to the private sector.
Apply the African Continental Free Trade Area agreement to bring down the cost of project development for landlocked countries.
Incentivise foreign firms to work with local partners in order to transfer know-how and build a sustainable construction industry in Sub-Saharan Africa.
Build up a transparent pipeline of projects and a programme of infrastructure works for the African construction industry to deliver. Better visibility will help the sector to expand and attract investment.
Photo: Vocational training in Africa (© Michael Turner | Dreamstime)

Add a comment
ConstructAfrica welcomes lively debate, but will not publish comments that are threatening, libellous or abusive.