Mozambique Construction Market Report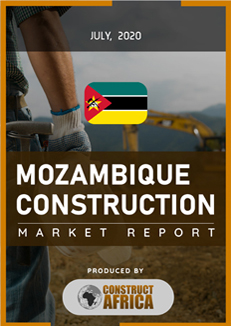 Report Summary
The Mozambique Construction Market Report is ConstructAfrica's independent construction market assessment, covering the infrastructure and construction industry sectors of Mozambique.
Report Description
With offshore gas discoveries in Mozambique's Rovuma Basin estimated at 100 trillion cubic feet, and with massive infrastructure projects worth up to US$30 billion having broken ground or currently under planning, the country has been described by the African Development Bank as one of the most dynamic economies on the African continent. Prior to the outbreak of the COVID 19 pandemic, Mozambique's GDP was expected to rise by 5.5% in 2020.
Infrastructure spend has rallied on the back of huge investments allocated to infrastructure projects designed to support the country's rapidly developing oil and gas, and mining sectors. It is estimated that projects totalling almost US$30 billion are currently in the pipe-line. There are also massive ancillary and downstream opportunities attached to the gas development projects and it is estimated that actual infrastructure spend will reach around US$6 billion per annum by 2025 as new mega-projects continue to break ground.
The complexity of infrastructure required to support the oil & gas and mining sector developments, and the stringent demands of multinationals for high standard construction in the country has locked out many local firms that lack the capacity, thus opening up the market to foreign firms predominantly from Portugal and South Africa.
ConstructAfrica's Mozambique Construction Market Report details the state of the construction industry in Mozambique. Included in 70 pages is a comprehensive look at the industry, including opportunities in various sectors, as well as full details and contact information for key players in the local industry.
Key Features of the Report
Describes the size and structure of the industry and assesses the competitive landscape and key challenges to entering the market.
Includes an analysis of the major strengths, weaknesses, opportunities and threats (SWOT analysis) within the Mozambique construction industry and wider Mozambique political, economic and business environment.
Gives an independent assessment of the current situation of the market, and illustrates possible strategies and potential market positions of your competitors and partners.
Provides key input data for successful budgetary and planning in Mozambique's infrastructure market.
Identifies influencing factors and Mozambique specific issues, major infrastructure deficit, main government infrastructure programmes and private sector investment opportunities.