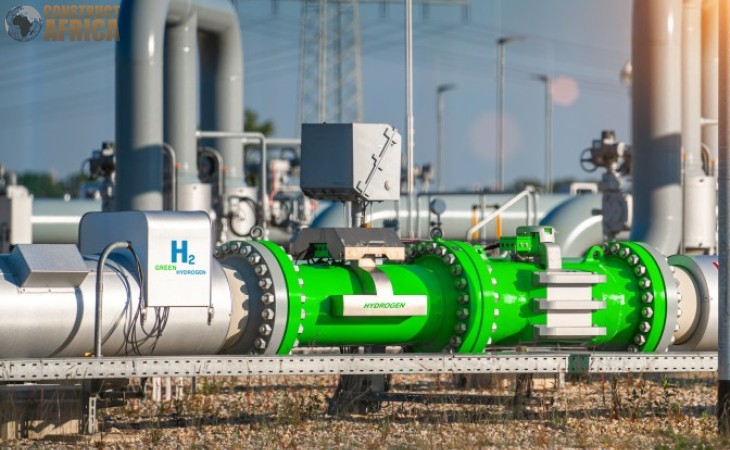 Namibia Sets Its Sights On Hydrogen
Since publishing its hydrogen strategy one year ago, Namibia has made rapid progress.
The Namibian government is moving ahead rapidly with plans to establish the country as an early entrant in the hydrogen market.
Since publishing its green hydrogen strategy one year ago, construction has begun on a green iron ore project and the country's first hydrogen refuelling station, a feasibility study has commenced for a world-scale hydrogen plant, a dedicated hydrogen investment fund has been launched and a hydrogen project implementation office established.
The Namibia Green Hydrogen and Derivatives Strategy released in November 2022 outlines ambitions for 5-7 million tonnes a year (t/y) of green hydrogen production by 2040 through US$190 billion of investment, and increasing further to 10-15 million t/y by 2050.
By 2040, it is hoped the hydrogen industry could generate US$6.1 billion in additional GDP for Namibia and create 185,000 direct jobs.
"Studies have shown that Namibia is probably one of the top four countries that have got the potential for producing hydrogen at competitive rates," Nangula Uaandja, CEO of the Namibia Investment Promotion and Development Board told the AFSIC - Investing in Africa event in London on 9 October. "We will produce green hydrogen for export and for local consumption."
Global demand for green hydrogen/ammonia is expected to more than triple by 2050, from about 180 million t/y currently to more than 600 million t/y, driven by the decarbonisation of the world economy. 
Namibia's excellent solar and wind energy profiles offer an opportunity to capture a share of this emerging market.
Studies suggest that the country could achieve a levelised cost of hydrogen (LCOH) production of just US$1.2-1.3 per kilogramme, placing it among the world's lowest cost producers alongside Chile, Greece and Saudi Arabia.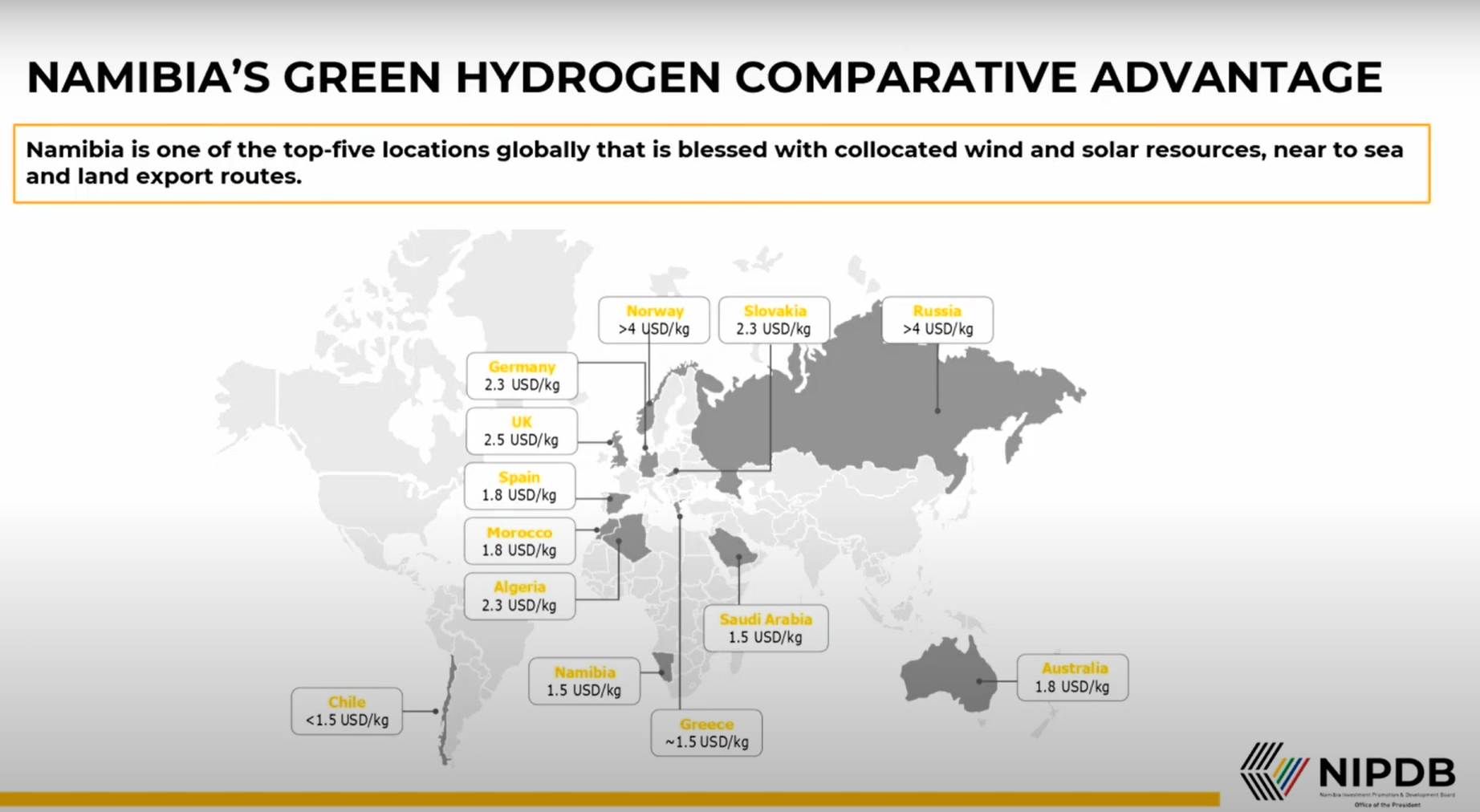 Namibia's green hydrogen strategy maps out plans for developing three hydrogen valleys in the southern, central and northern regions, where hydrogen production and derivatives facilities will be concentrated with shared infrastructure to lower costs.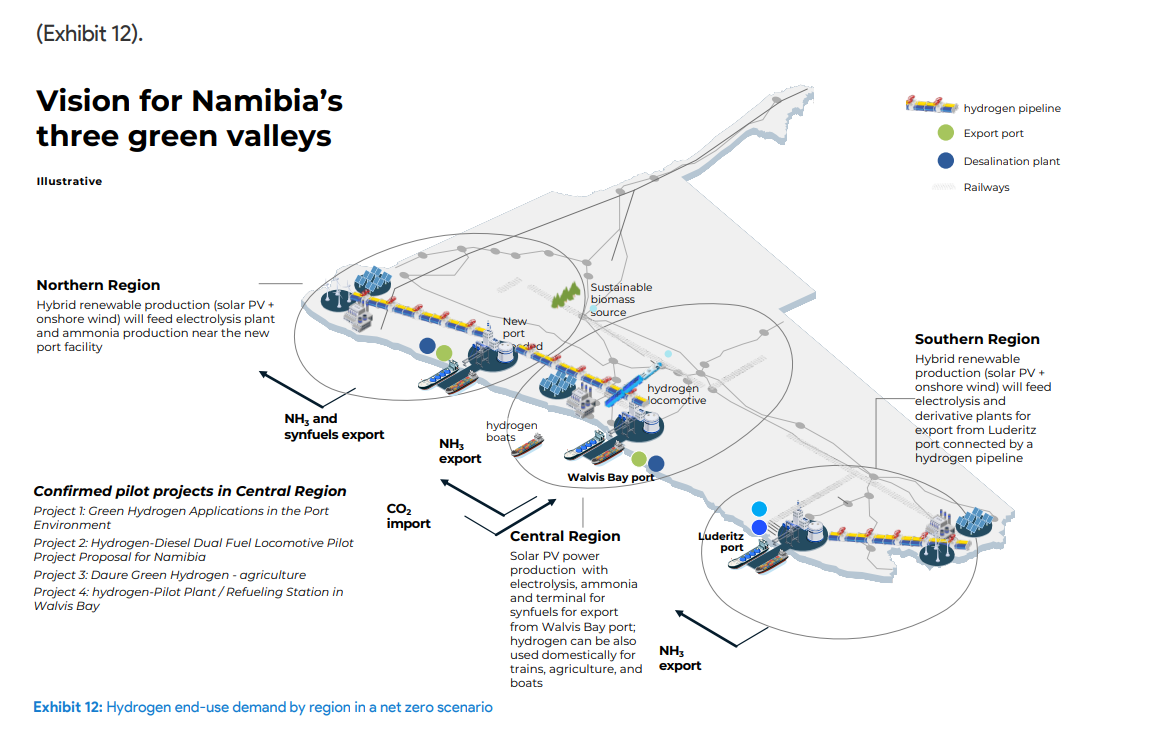 In May, the Environmental Investment Fund of Namibia (EIF) invited consultants to submit bids to conduct feasibility studies on the three hydrogen valleys. The studies aim to identify zones within the available land with solar and onshore wind potential and establish the hydrogen and hydrogen-derivative production potential and estimated costs, while also considering the impact of having multiple green hydrogen projects in one area.
Germany's Fichtner was awarded the contract for the central hydrogen valley. The winners of the other contracts have yet to be confirmed.
Southern Valley
The vision for the Southern Valley, which encompasses the Kharas region with its exceptional solar and wind resources, is to establish a portfolio of complementary projects and infrastructure including an enhanced deep-water port in Lüderitz and a world-scale green hydrogen/ammonia plant with wind, solar and desalination assets. These will be developed under the overarching Southern Corridor Development Initiative (SCDI).
The centrepiece of the initiative is the US$9.4 billion Hyphen project, Namibia's first gigawatt-scale green hydrogen plant. 
Hyphen Hydrogen Energy, a project development company in which the government holds a 24% stake, has signed an implementation agreement to develop and operate a large-scale, vertically integrated green hydrogen project under a 40-year concession. The other stakeholders are Germany's Enertrag and Nicholas Holdings.
To be built on a 4,000-square-kilometre plot in the Tsau Khaeb national park, the Hyphen project will ramp up in phases, and will have an eventual capacity of 300,000 t/y of green hydrogen production by 2030, from 5-7GW of renewables generation and 3GW of electrolyser capacity.
The construction phase is expected to create 15,000 jobs, with 3,000 permanent jobs during its operation. The target is for around 90% of these jobs to be filled by Namibians, along with 30% local procurement for goods, services and materials throughout both the construction and operational phases.
In late October, the Development Bank of Southern Africa agreed to provide a project preparation facility to support the partial funding of the engineering, environmental and socio-economic development studies for the project. Germany's ILF Consulting Engineers (ILF) was appointed in August to provide project management services and technical expertise for the project.
"Hopefully, we will see ourselves by 2027 producing green hydrogen. For the next 12-24 months, we will be doing a feasibility study," Uaandja told the conference. 
Hyphen is targeting annual production of 1 million tonnes of green ammonia by 2027, with plans to double this by 2029. It has already signed non-binding offtake agreements with German and South Korean industrial companies to derisk the project.
 
The strategy document states that the Hyphen project "will catalyse the rapid scale-up of green hydrogen production in the corridor. It will then be expanded to create a thriving cluster of ammonia (and later HBI [hot briquetted iron] and/or synfuel) production sites." 
The plan is for production in the Southern Valley to reach 5 million t/y of hydrogen equivalent by 2050, using the common-use infrastructure backbone established for the Hyphen project.
Hyphen has been working with Namibian Ports Authority (NamPort) and the Port Of Rotterdam on the development of the Lüderitz port masterplan. This will see the development of an industrial port complex at Lüderitz and common-user hydrogen infrastructure to support the SCDI.
It is understood the first phase of works, due to commence in the final quarter of 2024, involves the expansion of existing port facilities to enable the import of construction materials for the Hyphen project. The second phase will see the development of new deep-water port facilities to support annual exports of 2 million tonnes of green ammonia by 2028, with further capacity increases thereafter.
Central Valley
The plan for developing the Central Valley, which encompasses the Erongo, Khomas and Otjozondjupa regions and includes Walvis Bay Port and the capital Windhoek, entails launching several early demonstration projects and investing in infrastructure with the aim of creating a hub for the production of synthetic fuels. 
The strategy document notes that the wind power potential in this valley is limited and therefore hydrogen production will only be able to reach scale after 2035, when the costs for solar and electrolyser production are expected to be lower. It estimates that by 2050, hydrogen production in the valley could be 3 million t/y.
Four pilot hydrogen-related projects were selected last year for development in the Erongo region. They are making good progress thanks to financial support provided by Germany.
In late September, Cleanergy Solutions Namibia began construction of a hydrogen refuelling station with onsite green hydrogen production in Walvis Bay. Cleanergy Solutions Namibia is a joint venture of the local Ohlthaver & List (O&L) Group and Belgium's CMB.TECH.
The project entails the development of a 10-hectare solar park and a hydrogen production facility equipped with a 5MW electrolyser and a 5MWh battery energy storage system. 
A hydrogen academy will also be established as part of the pilot project to train locals on hydrogen technology and its applications, along with a workshop to convert trucks to dual-fuel technology. 
Cleanergy Solutions Namibia has also signed a letter of intent with Australia's Fortescue for the construction of a pilot green ammonia plant next to the hydrogen production facility.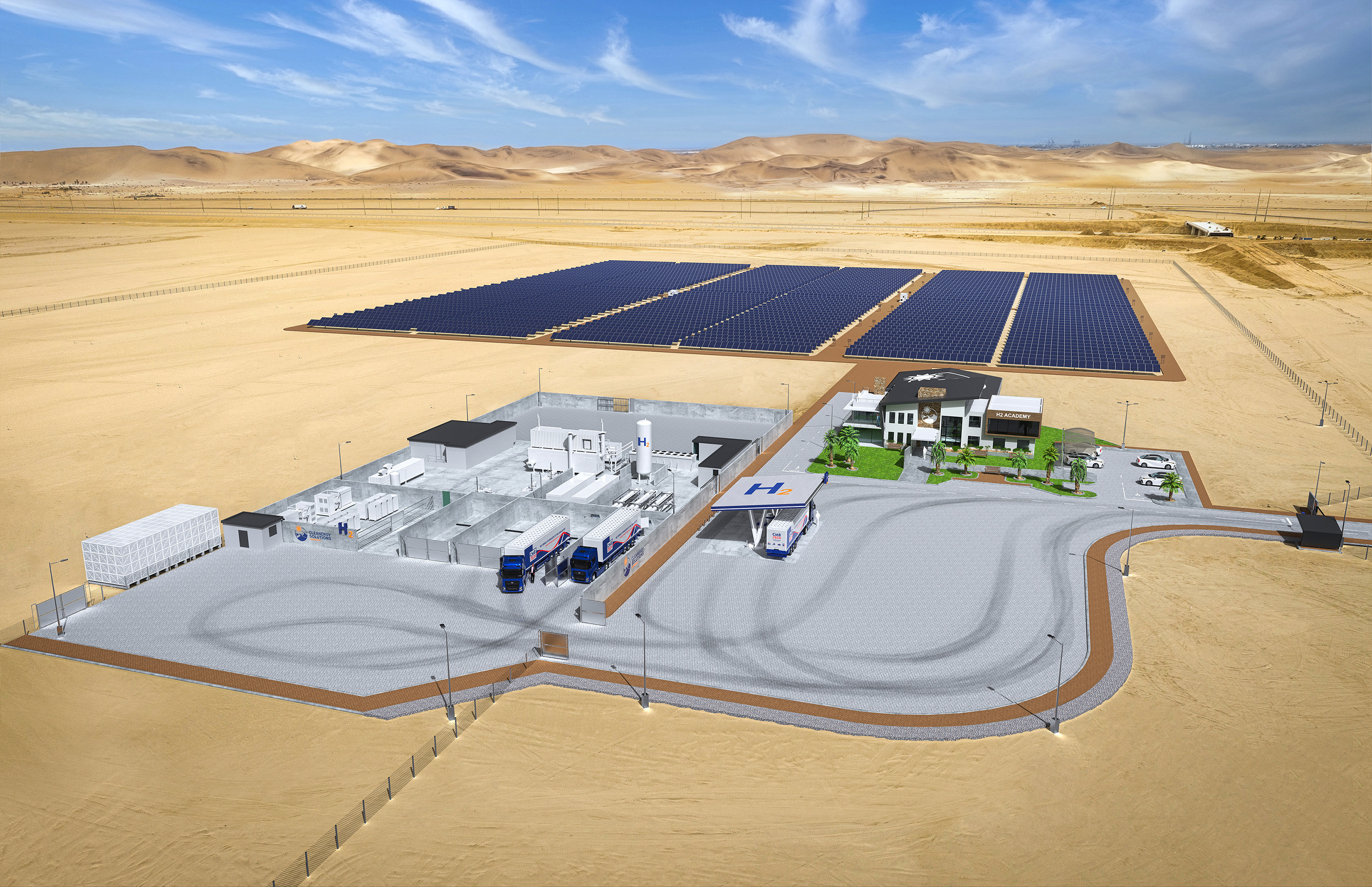 The refuelling station is expected to be fully operational by mid-2024, producing 200 tonnes of hydrogen a day. It will supply hydrogen for long-haul trucks and heavy industrial applications such as locomotives and mining and port equipment. 
"There is a reason why we start with a small plant like this," Cleanergy Solutions Namibia CEO, Eike Krafft says in an interview filmed for the EU-Namibia Business Forum held in October. "First of all, we need to test some technologies and build relationships. The second reason is we really want to support the development of a local hydrogen offtake economy and we think it is important to have something on the ground quickly. We are using this first phase to facilitate and support research and upskilling in hydrogen-related technologies."
In tandem with the construction of the refuelling station, TransNamib is working on a pilot project to retrofit two diesel locomotives with dual-fuel engines and convert tankers to transport green hydrogen, while NamPort is working to enable its port equipment to operate using dual-fuel technology.
The fourth pilot is an agriculture-focused project. Green houses for plant nurseries and production houses are currently under construction at the experimental Daures Green Hydrogen Village, which is due to be commissioned in June 2024. Green ammonia production for agricultural use is planned to reach up to 700,000 tonnes by 2028.
The longer-term aim for the Central Valley is to turn Walvis Bay Port into a green ammonia bunkering hub to refuel ships passing the Cape of Good Hope. This will require the development of storage and processing facilities at the port, and large-scale ammonia production facilities in the valley. Some 300 hectares have been set aside at the port for the development of green hydrogen-related infrastructure.
As part of a €1 billion critical minerals and hydrogen partnership with Namibia, the European Union has agreed to support a study for transforming Walvis Bay Port into a green hydrogen and logistics hub. Belgium's Port of Antwerp and Bruges International will develop a masterplan covering multimodal infrastructure, spatial planning and market organisation.
The Erongo region has become a hive of activity for hydrogen-related projects of late. On 6 November, a groundbreaking ceremony was held for the Oshivela green iron project.
The €30 million plant is being built near the Valencia mine, close to Arandis, by HyIron, a Namibian-German joint venture. It will use green hydrogen instead of coal for the reduction of iron ore. 
The plant will have a capacity of 15,000 t/y of direct reduced iron in its first phase, with production set to commence by the end of 2024. A feasibility study is being conducted to evaluate a mid-term capacity expansion to 1 million t/y.
The Oshivela facility will be powered by solar and wind energy, with 20MW of photovoltaic solar in the first phase, and an additional 18MW of wind energy and 140MW of solar in the subsequent scaled-up production stage.
Also in the Erongo region, France's HDF Energy is planning to develop a US$240 million green hydrogen to power project at Swakopmund.
The firm has secured 400 hectares of land and is hoping to reach a final investment decision next year. According to the environmental impact assessment, key elements of the project include an 85MW solar array, 24MW of electrolysers, a 90MWh battery energy storage system, a reverse osmosis desalination plant with a capacity of 600 cubic metres a day and a 6km bulk water pipeline.
Other plans being considered for the Central Valley include the development of bush-fed biomass plants to supply carbon dioxide for methanol and synthetic kerosene production as well as the creation of a special economic zone.
Northern Valley
While the northern region of Kunene has strong renewable energy resources, it currently lacks infrastructure to support the development of a hydrogen hub. According to the strategy document, a new deep-sea port will have to be built in the Northern Valley. It states that development of the region will begin in the mid-to-latter part of the decade once appropriate partners have been identified. The ultimate goal is to establish a green fuels hub and/or a green hydrogen-based hot briquetted iron hub, with the potential for 5 million t/y of hydrogen equivalent production by 2050.
The strategy document estimates that developing Namibia's green energy industry will require US$190 billion in investment up to 2040. This includes US$95 billion for upstream production facilities and infrastructure such as renewable energy systems, electrolysers, storage and pipelines, and about US$30 billion for midstream assets including ports, derivative plants and trucks.
To facilitate this investment, in June, the government announced the launch of the €1 billion SDG Namibia One fund in partnership with Climate Fund Managers and Invest International of the Netherlands. The fund will seek to mobilise concessionary and commercial capital from investors specifically to support the SCDI. 
Invest International provided €40 million in initial grant funding to seed the fund. The European Investment Bank and the Namibian government inked a letter of intent at COP27 in November 2022 to raise €500 million, a portion of which was designated for investment via SDG Namibia One. 
The blended finance fund will provide capital for the three different project phases: development, construction and operations, with each having a different risk-return profile.
"When you are able to put structured processes in place in emerging markets, the investment thesis improves significantly, so supporting the Namibian government to put structures in place to enable projects will crowd in investment from other sectors that would otherwise take a wait-and-see approach," Darren Johnson, head of Africa, Climate Fund Managers tells ConstructAfrica.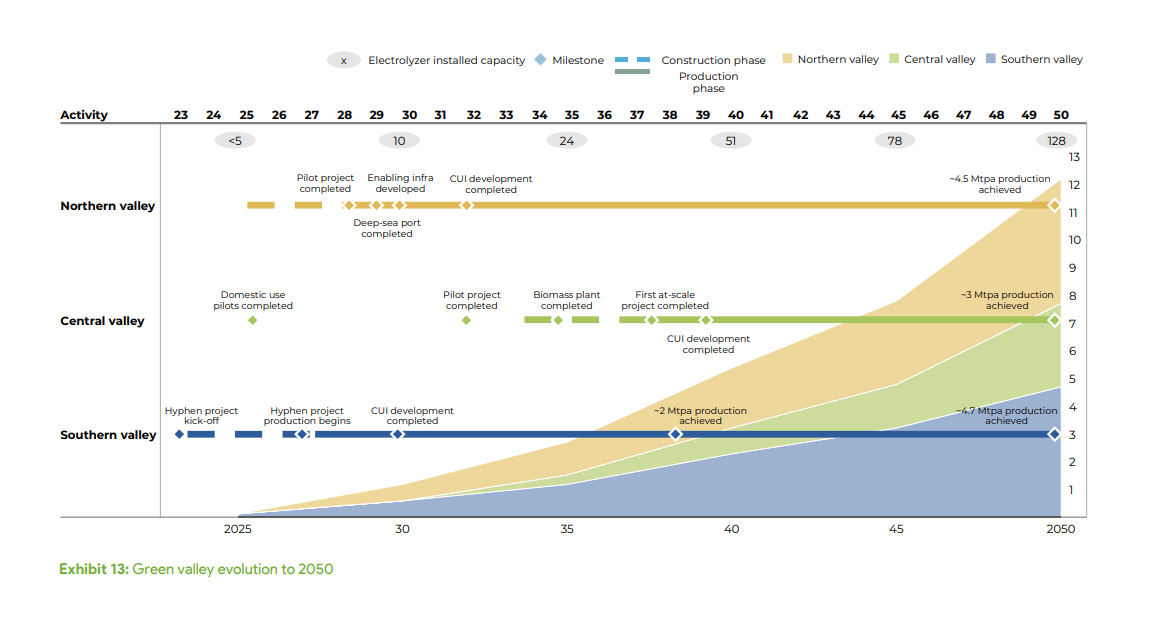 Economic impact
The strategy document estimates that the development of an at-scale hydrogen industry could lift Namibia's GDP by 32% by 2040 and create 600,000 new direct and indirect jobs. It also sees an opportunity for the local manufacturing of renewables technologies such as wind towers and blades and solar cells and modules.
To help localise the renewables and hydrogen value chains, the government plans to support research and development initiatives through the Namibia Green Hydrogen Research Institute and to establish training centres and degree programmes to develop a skilled local workforce. Self-contained mini-campuses are planned for Lüderitz, Windhoek and Walvis Bay.
The strategy document ends with an action plan to be completed by March 2025. One of the main tasks is to establish an Implementation Authority Office to plan and procure hydrogen projects on state-owned land. In August, the Ministry of Mines and Energy announced the opening of the office, with presidential advisor James Mnyupe appointed as green hydrogen commissioner for five years.
Hydrogen diplomacy
To realise its hydrogen ambitions, Namibia has been engaging in hydrogen diplomacy over the past couple of years, forming strategic government-level partnerships and showcasing its plans to potential investors, project developers and offtakers. 
Germany has emerged as a key collaborator, signing an official hydrogen partnership in 2021 and providing a €40 million stimulus package to develop the sector. As well as backing the four pilot projects in the Central Valley, Germany's Federal Research Ministry is financing hydrogen-related scholarships and the development of a national synthetic fuels strategy. Meanwhile, German firms are the driving force behind the Hyphen project in the Southern Valley and the Oshivela green iron scheme.
With much of the future construction activity set to take place around the small port city of Lüderitz, which has just 12,000 residents, the German Federal Ministry for Economic Cooperation and Development (BMZ) in June agreed to provide €6 million to support urban planning in the vicinity of the proposed hydrogen project to ensure the influx of workers does not lead to uncontrolled urban sprawl.
Private investors are also planned to be engaged to speed up the construction of apartments, schools, roads and public facilities, and support will be provided to ensure the training of renewable energy specialists.
Development Minister Svenja Schulze said at the time of the announcement, "Namibia has huge potential for renewable energies and has recognised that it can write a success story in expanding green hydrogen production. We will support Namibia in this. Sustainable urban planning in the vicinity of the future facilities is an important part of our cooperation. Above all, sustainable means involving the local population in the planning. They have to be able to have a say, because it's about shaping their country." 
Berlin's keen interest in ensuring that Namibia succeeds in harnessing its competitive advantage in renewables to become a global player in hydrogen is understandable. Germany is expected to become the biggest market for hydrogen in Europe in the race to reach net zero.
Federal Research Minister Anja Karliczek said at the signing of the 2021 partnership agreement, "We need large amounts of hydrogen and we need it quickly and at low cost. Namibia can provide both." 
Photo: Hydrogen infrastructure (© Audioundwerbung Dreamstime)
Add a comment
ConstructAfrica welcomes lively debate, but will not publish comments that are threatening, libellous or abusive.