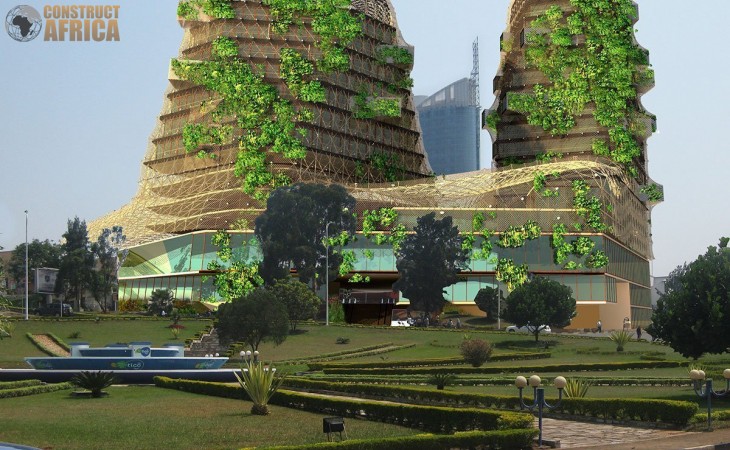 Nine Sustainable Structures in Africa
We live in a world where the population is ever-growing and infrastructure development grows at a continuous pace because more people means more demand for everything.
As of early 2022, Africa was estimated to have a population of approximately 1.3 billion people. Forecasts also show that by 2050, there will be nearly 2.5 billion people on the continent. Therefore, the need for building structures in Africa will continue to increase.
However, the problem with buildings is that the bigger they are, the more they use power, water, and other resources. Experts have therefore been exploring ways of building sustainable structures so as to limit the use of resources, and help save the Earth from degradation. Africa houses several of these sustainable buildings. 
Read on and learn about some sustainable building structures in Africa.
1. Agostinho Neto University, Angola
Locally known as Universidade Agostinho Neto (UAN), Agostino Neto University is a public university in Angola established in the early 1960s. It was named after the country's first president.
In an effort to have a sustainable and world-class university, the design of the classrooms was positioned to use natural ventilation and cooling with the help of trees arranged in a funnel-like form. Apart from cooling and ventilation, it is also essential for buildings to have enough light for the people inside. To address this requirement, the buildings were designed to ensure that the structures get enough natural light to conserve energy during the day.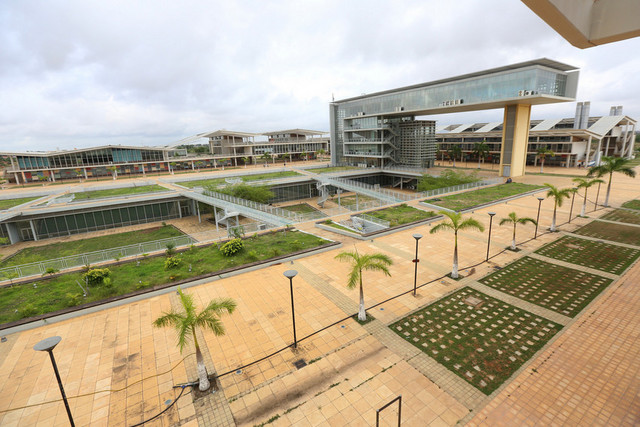 2. Sandbag Houses, South Africa
Do you know that you can build houses out of sandbags? 
Sandbag houses are one of the most sustainable projects in Africa. Its goal is to minimise the costs of building houses while saving valuable resources at the same time. MMA Architects in South Africa won the Curry Stone Foundation prize for building houses using inexpensive local materials and replacing bricks with sandbags.
The future occupants of the sandbag houses built by MMA Architects also helped in the construction, which cut down expenses for labour. The sandbag houses were built just $6000, giving people the opportunity to have sturdy, comfortable, and safe houses.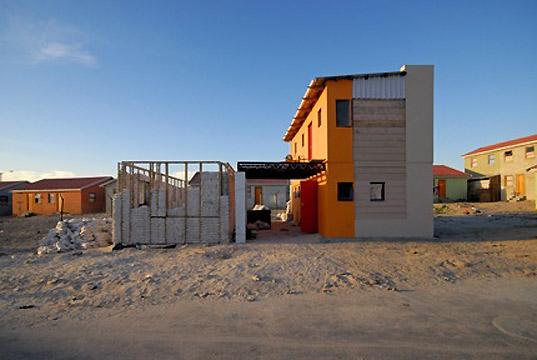 3. Ecomo Homes, South Africa
Ecomo Homes is another effort to have sustainable structures for building residents in Africa. Its architect, Pietro Russo, designed the homes using low maintenance materials. They are prefabricated structures designed for 'living in collaboration with nature', and built off-site in a factory to help minimise construction waste. By using up-to-date technology, the developers of this project use fewer resources, conserving water and materials.
4. Eastgate Centre, Zimbabwe
While the Eastgate Centre in Harare, Zimbabwe, is mostly made up of concrete, its ventilation system doesn't depend on the usual energy and heating, ventilation, and air-conditioning systems used by most commercial buildings. Instead, the building's ventilation system is designed to mimic termites' self-cooling mounds. Designed by Zimbabwean architect, Mike Pearce, Eastgate was the first building in the world to mimic termite architecture in its cooling.
Because of the biomimicry technology applied, the Eastgate Centre uses approximately 10% of the typical energy used to power a commercial building of the same size. The owners and tenants of the building therefore save a considerable amount of money as they pay less for electricity.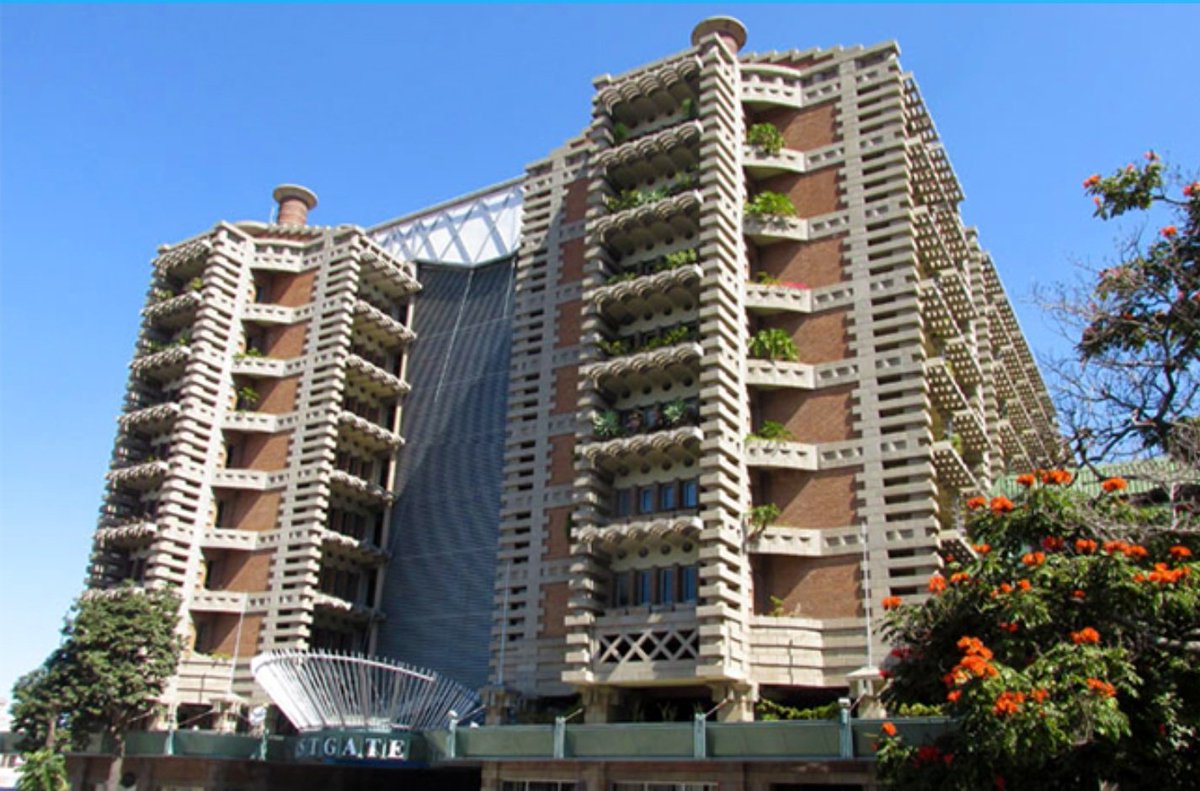 5. 'Inno-Native' Home, Ghana
Unlike the building structures featured above, this example of a sustainable structure is an eco-friendly house fit for one family. The Inno-native House was designed by Ghanaian architect, Joe Osae-Addo. Mr. Osae-Addo is the CEO of Constructs – an innovative architectural firm in Ghana, West Africa.
The materials used for the Inno-Native House include timber and adobe mud blocks - both of which are found in rural areas of Ghana and have long been used to build a variety of structures.
Two things kept the house cool and breezy: its elevated location and the cross ventilation through floor-to-ceiling jalousies and slide-slatted wood screens. The design of the house follows a 'no air-conditioning' philosophy by raising the structure three feet off the ground on a wooden deck to take advantage of cooling under-floor breezes. The house also has solar panels as a backup source of electricity.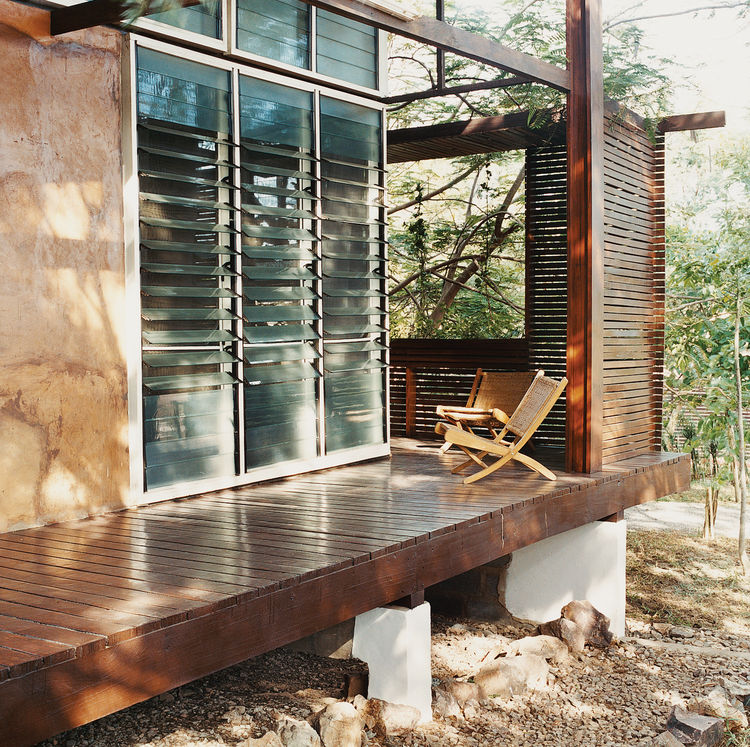 6. El Mandara Eco-Resort, Egypt
El Mandara Eco-Resort started as a series of rundown building structures in Egypt. Then a group of young people renovated the structure using local materials to make way for a more attractive resort for the tourists and an eco-friendly place. It uses mud bricks for the structure and palm fronds for shading.
7. Gando Primary School, Burkina Faso
Gando Primary School is an educational institution located in the province of Boulgou, in the east of Burkina Faso. Construction of the school building was completed in 2001. The school was designed by Francis Kéré (Kéré Architecture), the renowned Burkinabè architect and recipient of the 2022 Pritzker Architecture Prize.
The school was built to expand the sparse network of schools in the province of Boulgou. In order to create a conducive learning environment, the design of the building structure focuses on sustainability with proper lighting and ventilation. Local materials were used for construction to minimise costs.  
Local materials were used for construction to minimise costs. Structurally robust clay/cement hybrid bricks created from clay material which is abundantly available in the region and traditionally used in house building, were used to construct the scholl building. The roof of the building is elevated above the actual building. In addition, a dry-stacked brick ceiling is placed in between the roof and the building interior for optimal ventilation.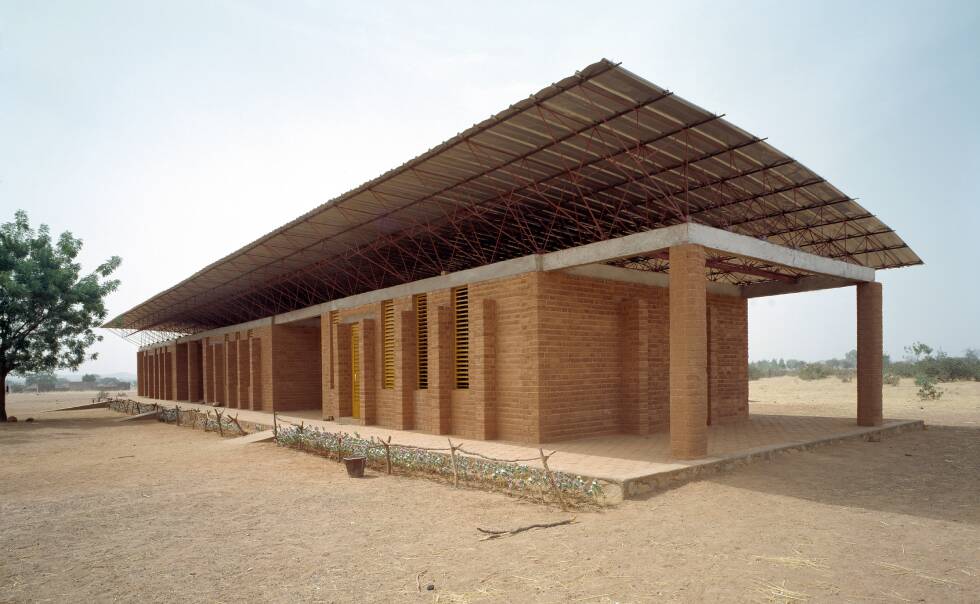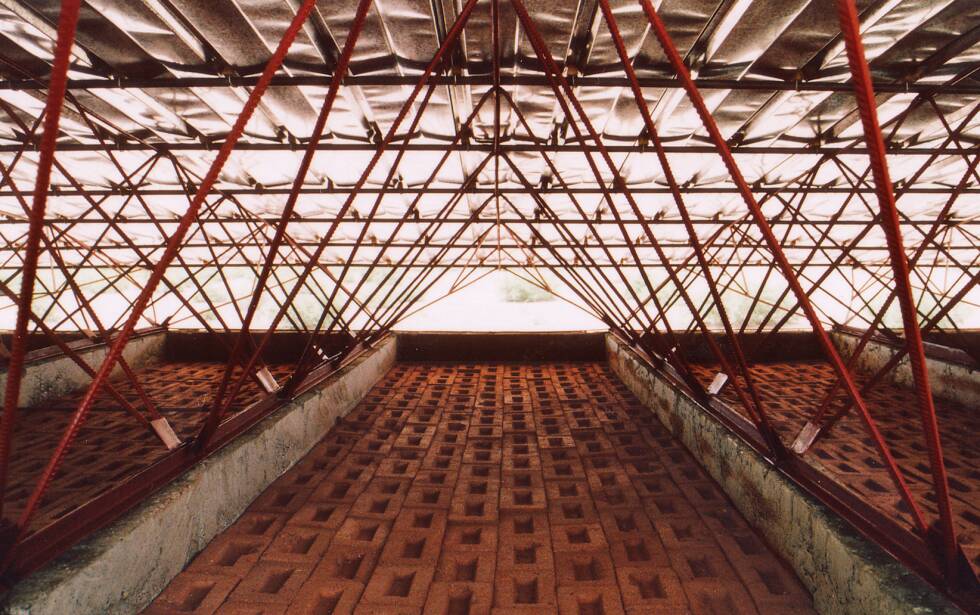 8. Makoko Floating School, Nigeria
Due to global warming, the sea levels are rising, which means that people living in coastal areas either have to move to another location or adapt and get used to an aquatic lifestyle.
The Makoko Floating School was designed by Nigerian architect Kunlé Adeyemi of NLÉ Architects in 2013, as a solution for the vulnerable coastal community of Makoko located on the lagoon heart of Nigeria's largest city, Lagos.
The floating school was a prototype floating structure intended to give people in the Makoko community access to education while helping them get used to the aquatic environment. The school was designed to accommodate 100 students, and to utilise locally sourced wood. The school design also used solar panels for electricity and rainwater for toilet operation. The construction of the floating structure was a collaborative effort with the residents of Makoko.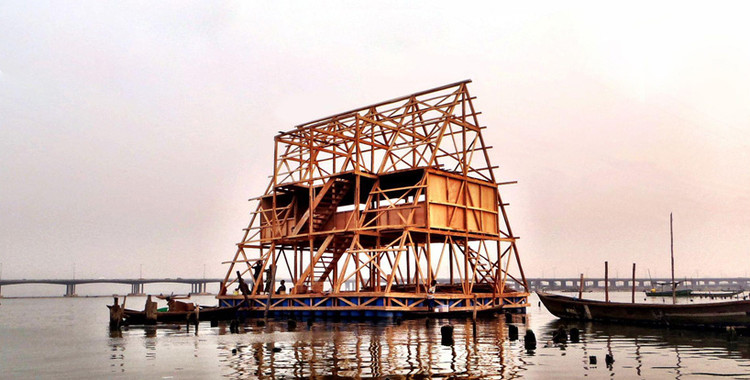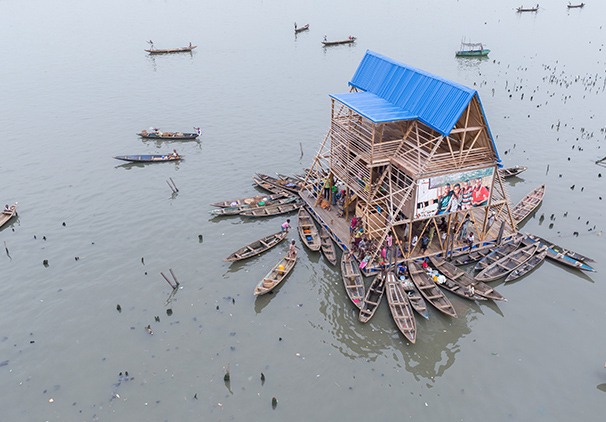 9. Vissershok School, South Africa
Instead of using newly manufactured materials for construction, Vissershok Primary School uses recycled shipping containers. The school is located in the Durbanville wine valley of Cape Town, South Africa, and is attended by children of farm workers and underprivileged families living in the nearby Du Noon Township. 
The container classroom was designed by Tsai Design Studio, using an old shipping container that was refurbished to accommodate an independent classroom for 25 Grade R learners aged between 5 and 6. The container classroom also serves as a library in the afternoon, and it has a large roof that protects the people inside from direct sunlight with a gap from the container for heat reduction.
The container classroom also has windows on each side to let the winds pass through and provide cross-ventilation. A vegetable garden was created adjacent to the container classroom, serving as an educational tool for the children and providing fresh produce for their feeding program.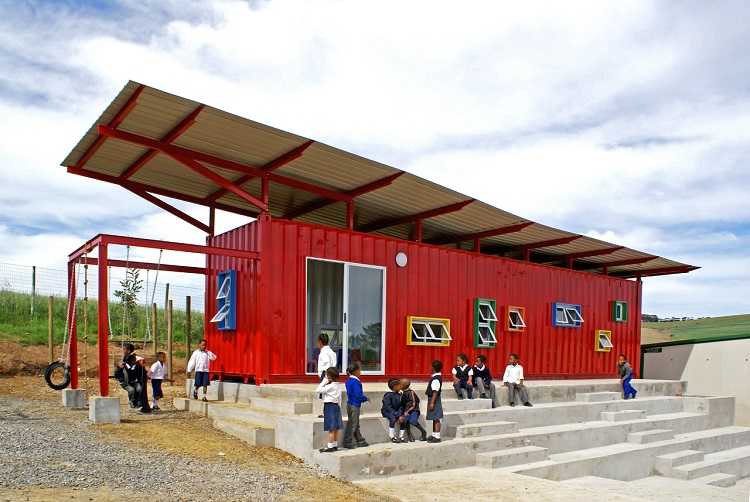 Sustainable Development in Africa
While there are several building structures in Africa that incorporate principles of sustainability, the continent still has a long way to go to achieve full-blown sustainable development. There are several challenges to sustainability in the built environment, including deforestation, climate change, soil degradation, scarcity of water, and climate change. Regardless, the goal of sustainable development is feasible if the continent's natural resources are put to good use, and if innovative minds are able to come up with solutions that address the problems of sustainable development. 
Subscribe to ConstructAfrica's newsletter to stay updated about Africa's latest developments. You can also visit our website at www.constructafrica.com to access news, industry reports, and blogs. 
Top Photo: Nobelia Office Tower, Kigali, Rwanda - the first building to achieve a green star rating in the country (BAC Engineering Consultancy | bacecg.com)
Add a comment
ConstructAfrica welcomes lively debate, but will not publish comments that are threatening, libellous or abusive.